Beginners: 6 week Course This is for the those who have never taken a pole class or haven't taken a class for a while and would like a refresher. You will learn spins, climbs, and holds and begin stretch training. No previous experience in any sport is required.
Level Classes 1-3+: Learn the sport of pole in a class room style setting. Each level has approximetly 60 skills to accomplish before moving up to the next level. Each level has requirements to be completed before moving up to the next level, eg: combination of skills performed at varied levels on the pole.
Level 1: 90 minute graduated level
Level 2: 90 minute graduated level
 Level 3+: 90 minute graduated level
PoleFit Mamas: 60 minute class, Cardio and Strength training on the pole, followed by a head to toe stretch. Your child is welcome to come to class but not to participate.
No prerequisite
Cardio and Conditioning: A fast paced 80 minute class that will complement any pole training. This class starts with 25 minutes of pole cardio followed by strength training 'pole style'. Adaptable to every level of athlete.
Pre Requisite:Beginners Class
Stretch Class:(evening) This is a head to toe stretch class, whether you want a light limbering or an intense deep stretch or stretching for a specific Pole skill. All levels and goals are welcome.
No Pre Req
Stretch Class: (Day) Each class is focused on one particular area of flexibility (eg, back flexibility, splits, etc) then rotated to a new area for subsequent classes, repeating the sequence every 3rd class.
Pole Play: This class is a mixture of all classes offered on the schedule: Graduated Skills, Choreo, Combos, Floorwork, Stretch and Strengthening all on both Spin and Static Pole.
Pre Req: Beginners 
PoleFit: 60 minute class, Cardio and Strength training on the pole, followed by a head to toe stretch
No Pre Requisite
Drop In: Early evening 60 minute supervised class
No pre Req
Open Studio: Day time 60 minute supervised class
Pre Req: Any previous pole history
Choreo With Nat: 80 minute class, Learn a full 3-4 minute choreographed dance with the pole. Emphasis on flow and connections.
Pre Requisite: Beginners Course
Lunch Fit: This class is tailored to fit into a 60 minute lunch break with time to change and get back to work.
Emil Stretch classes: 60 minute stretch class with focus on whichever system is being offered (front split, middle or back). This class incorporates yoga mats, blocks, straps and pole. Taught from California via Skype to people all over the world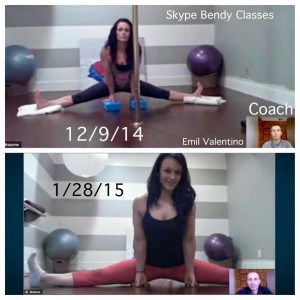 Private Parties
Bachelorette, Bachelor, Birthday, Reunion, Graduation or Just Cuz. This is a three hour rental with an Instructor. The session includes a one hour lesson (of chosen style) a one hour 'pose and shoot' photo session (costumes are encouraged!) and one hour free studio time. Up to 10 people. Iced lemon water will be supplied. Alcoholic beverages and catered appetizers are available, please contact Impulse Studio for a quote. Groups are welcome to bring their own non alcoholic beverages and food.